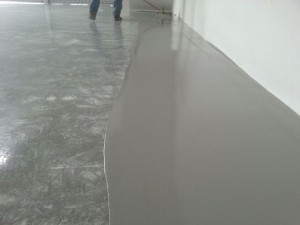 Whether you have old cracked, damaged or uneven concreate floor the self-levelling epoxy flooring will provide the perfect new finish to your place at a fraction of cost required to repair the floor. Self-levelling epoxy flooring by us is specially designed to heal the cracks in the old floor and give them new like look and create smooth and seamless floor. The epoxy spreads out evenly to fill cracks and chips in the old concreate floors. Self-levelling epoxy is used in a number of applications in commercial, industrial, and residential places. The self-levelling epoxy is recommended in number of industries and commercial places including:
a. Manufacturing Units
b. Malls, Carpark
c. Warehouses
d. Shops and Showrooms
e. Garages – both Commercial and Residential
f. Food Preparing Places
g. Hospitals
h. Schools and Others
Self-levelling epoxy is also a good solution for houses where renovation is required at low cost. Self-levelling epoxy flooring will turn the old, dingy concrete floors into decorative and attractive floor that will leave your surprised and amazed at the beautiful transformation. Our self-levelling epoxy flooring will leave a lasting surface that is easy to maintain and clean and will remain as it is for years.
Some of the benefits of self-levelling epoxy flooring are:
• High scratch and impact resistance thus it is ideal for places where the impact is high
• Chemical and heat resistance that makes it ideal for industries dealing in chemicals
• Skid resistance even when wet that is what is need at public places where there is constant movement of people
• High gloss and smooth finish that is needed for the old and worn floors
• Easy to clean surface
• Various bright colors to choose from
• Low on cost
• Quick and easy application
We have years of experience in providing self-levelling epoxy systems to our customers and our professional expert team has given an all new look to many a places which has in return given us happy and satisfied clients who have helped us grow more.