Kretop Application 
As a leading epoxy producer and supplier, Kretop prefers to separate the industry into two: Dry food and wet food. Both these sections use different products as per their requirements of the environment- whether wet or dry.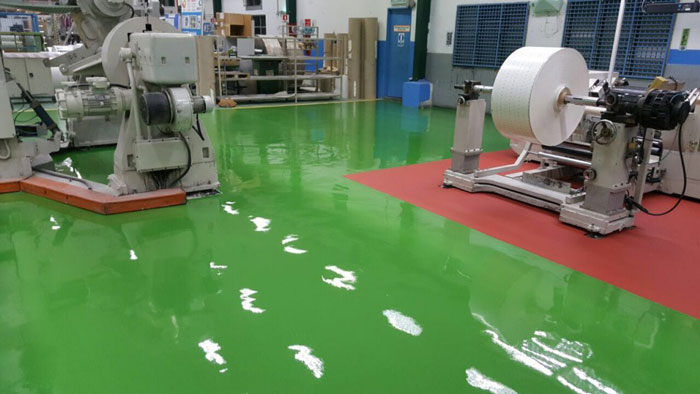 Our classification divides the dry food industry that constitutes the cake bakeries, agricultural product processing such as  wheat, pepper, cashew, coffee powder, rice, livestock feed.
On the other hand, the wet food industry includes Honey, Candy Milk, Beer Alcohol, Seafood processing, Sugar etc.
In environment and setting where the food production units are constantly exposed to hot temperatures like using hot water to clean floors or cold storage areas, Kretop Urethane Concrete is ideal to be used. It is superior to Epoxy coating and has specially been made to serve the same.
Kretop UC 600 is applied on the top surface of floor area to provide protection and provide durability against temperature ranging from –10C to 130 C as well as organic acids.
UC 900 KRETOP is even more durable and is being used for areas such as kitchens, cold storages that deal with temperature resistance from -10C 130C.  Some of the projects from the Food and Beverage industry make use of Kretop Urethane Concrete System. These industries include Acecook factories, Kinh Do, Asian Foods, cold storages of Camimex seafood plant, Tan Hue Vien Foods Factory, Khanh Hoa Sanest, Dang Thuy Seafood Plant.
Pharmaceutical Industry lays special emphasis on hygiene, infection control, cleanliness and their first priority is to be clean and germ-free.
In fact, almost all of these units and plants essentially need to meet and exceed the GMP-WHO standards. They require dedicated cleaning as dirt and bacteria can localize such locations. Furthermore, a place where the drug production is usual process, the floor surfaces are on the verge of being exposed to chemicals and thus, an epoxy coating is a discreet requirement to meet their goals.
Our product line- of Kretop EPW 300PT which is an antibacterial water based epoxy coating that is roller applied on wall and KRETOP EPW 500SL which is a self-leveling water based epoxy providing smooth, glossy and seamless finish surface with proper chemical resistance- completely meets the requirements frame of these hospitals and pharma factories.
Both of these products can be applied to the operating rooms walls, imaging rooms, production area, factory floors and the rest.
We are a trusted partner with Da Nang General Hospital, Hue International Hospital, Medical Center of Vung Tau Petroleum, Mediplantex Central Pharmacy JSC, Merap Pharmaceutical Company, Vietnam Rohto Mentholatum Co.,Ltd, Vidipha Central Pharmaceutical JSC, Hau Giang Pharmaceutical factory & etc.