Epoxy / Polyurethane Flooring Basement
A basement carpark floor is prone to water damage and thus it is ideal that the basement sealer is moisture locking. Epoxy / Polyurethane  coated basement flooring is one of the best ways to maintain and preserve your space from water damage.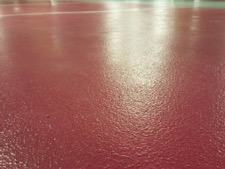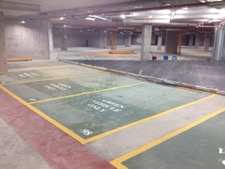 Epoxy / Polyurethane dries thick and hard providing both waterproofing and durability. These are also an excellent solution for a high-traffic basement, like the ones in the malls, car-park, recreation areas and other such places. These are available in different colours and textures and thus can brighten even the dullest of the places.
These will give your basement a fresh, new look that's more durable, more attractive and easier to clean than concrete. These are also hygienic as it doesn't let dirt stick to it as well it cleans out very well within no time than that is required in cleaning other kind of floorings.
These are also a great option to repair your old floor as its self levelling property will fill the cracks and unevenness of the old floor giving it all new look without any extra expense on repairing the underneath flooring and Epoxy takes very less time in applying and drying and thus saves your valuable time. Also the finely finished epoxy / polyurethane basement flooring comes at a fraction of cost than that required in tile, hardwood or other such flooring. Easy to maintain, lasts for years and saves your place from water damage than can be very hazardous.
Check out the benefits of <a href="https://www.epoxyflooringmalaysia.com/seamless-epoxy-flooring/">Seamless Epoxy Flooring</a> whereby to give custom design look for epoxy floors.
You can also add textures to your epoxy basement flooring by adding quartz or other flaxes to give it a refreshing new look.